Interprofessional Practice for Population Health (No CE) is a Course
Interprofessional Practice for Population Health (No CE)
Self-paced
Full course description
PLEASE NOTE: No CE or certificate are available in this free version of the course.
If you are seeking CE or a certificate of completion, you will need to enroll in the paid CE version: https://www.mitrainingcenter.org/courses/ipphs1018ce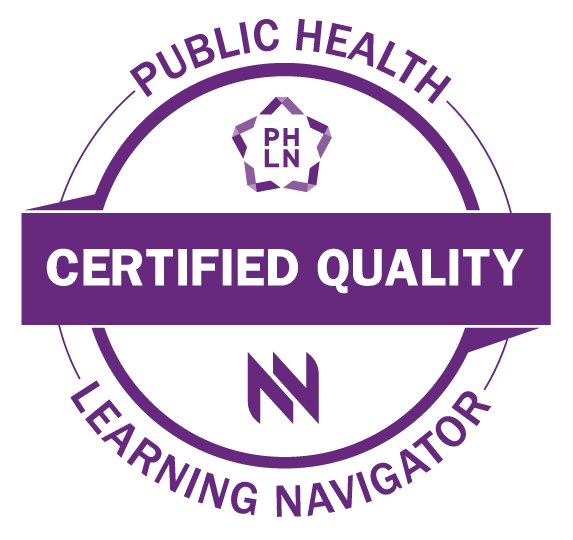 It is increasingly understood that collaboration across disciplines is required to advance population health and health equity. This training module, developed by the Region V Public Health Training Center (formerly the Michigan PHTC), defines the core competencies of interprofessional education and illustrates their importance within public health through practice-based examples.  
Audience
Public health, nursing, and other allied health students and professionals, as well as those from other disciplines and sectors interested in collaboration
Learning Objectives
Define the four Core Competencies of Interprofessional Education (CHES Areas of Responsibility 2.1.1, 2.1.3)
Define population health from a public health perspective (1.4.1, 1.4.2)
Define prevention from a public health perspective (1.4.1, 1.4.2)
Recognize real-world applications of interprofessional practice (2.1.1, 2.1.3)
Instructors
Olivia Anderson, PhD, RD, Clinical Assistant Professor, Nutritional Sciences, University of Michigan School of Public Health
Phoebe Goldberg, MPH, CHES, Program Manager, Region V Public Health Training Center, University of Michigan School of Public Health
Patrick Shannon, JD, EdD, MPH, Chief Judge, Saginaw Chippewa Tribal Court
Joseph Sowmick, Hon.PhD, Healing to Wellness Coordinator, Saginaw Chippewa Tribal Court
Sheila Meshinski, RN, BSN, CEN, CFN, SANE-A, Staff Development Instructor/Emergency Department, Henry Ford Macomb Hospital
Deborah Monroe, CPSS-RC, Senior Partner, Recovery Concepts of Michigan
Janine Sinno Janoudi, PhD, Health Policy Analyst, Ingham County Health Department
Harmony Gmazel, AICP, Government & Public Policy Educator, Land Use and Civic Engagement, Michigan State University Extension
Sponsors
This course was developed by the Michigan Public Health Training Center and the Region V Public Health Training Center. It was supported by the Health Resources and Services Administration (HRSA) of the U.S. Department of Health and Human Services (HHS) under grant number UB6HP27881 Region V Public Health Training Collaborative and UB6HP31684 Public Health Training Centers. This information or content and conclusions are those of the author and should not be construed as the official position or policy of, nor should any endorsements be inferred by HRSA, HHS or the U.S. Government.
Technical Information
If you are experiencing any technical difficulties, please try another browser (i.e., Chrome, Safari, Firefox). Internet Explorer and Edge will not work with our learning management system.
Contact us at rvphtc@umich.edu with questions.